jonni cheatwood
L.A.

Artist


Jonni Cheatwood is a Brazilian-American abstract and textile artist living and working in Los Angeles. He was born in Thousand Oaks, California on July 21, 1986. Upon graduating high school, Jonni initially moved to Flagstaff, Arizona to join the men's basketball team at Northern Arizona University. That plan was short lived, and he chose to attend Arizona State University, where he graduated with his B.A. in Interdisciplinary Studies, focusing on Education and Film & Media Production. While at Arizona State, Jonni took up painting as a hobby, which turned into a passion, which eventually turned into a career.

Download a Transcript ︎︎︎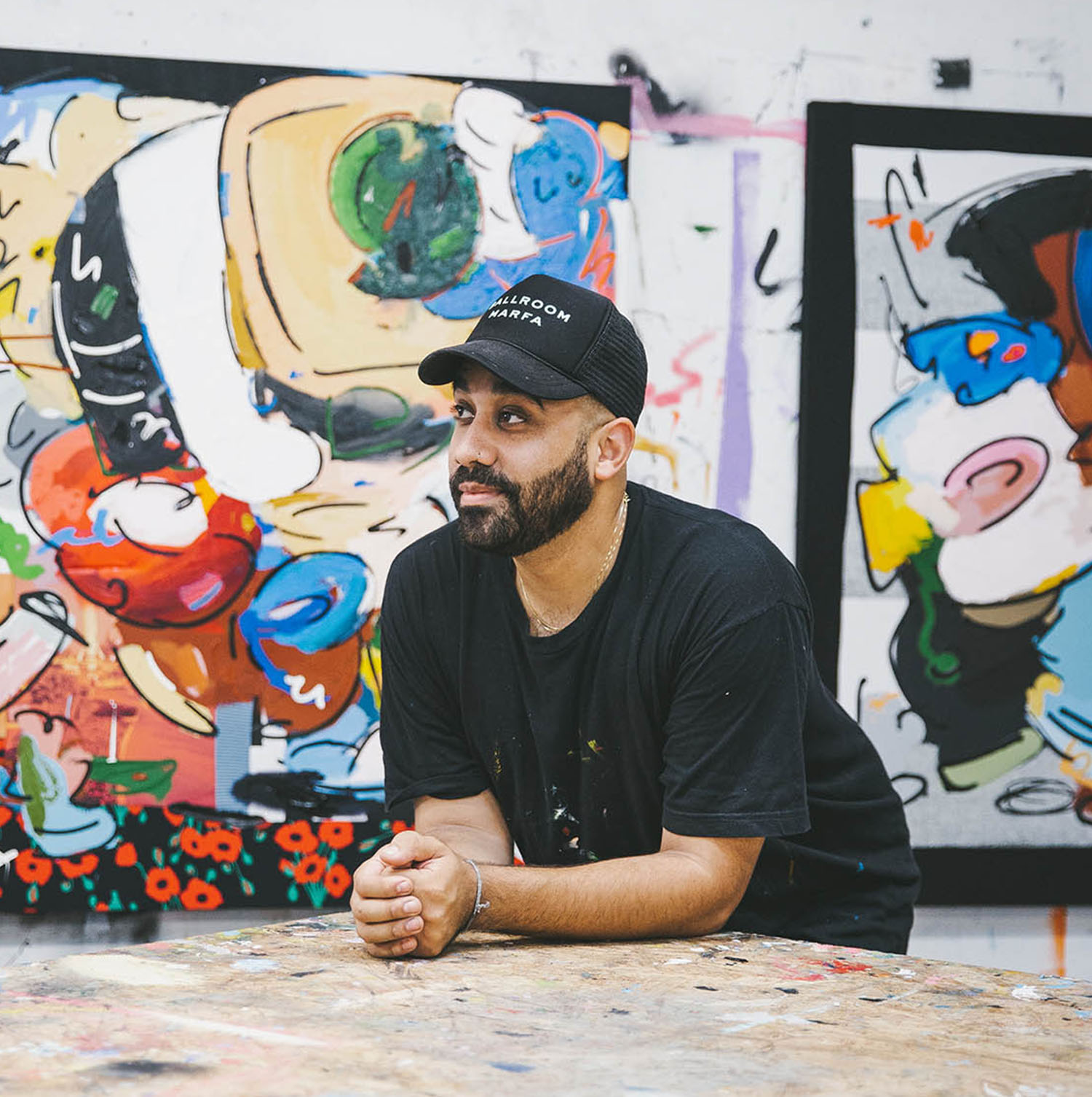 Ryan Tyler Martinez: To give some context, could you describe or tell us a little bit about your paintings and your work?

Jonni Cheatwood: I feel like my work is always changing in my mind. Currently, the work is bold, colorful, and very gestural. I use a lot of fabric. I use materials that are sourced from the arts district in downtown Los Angeles, or friends give me old clothing. I've also been using a lot of imagery, from old Kodachrome slides that my in-laws actually gave us. I use those images to create nostalgic feelings, then, I print them on canvas and sew all the fabrics together to make a quilt. From there that's where I start painting. The work is a play on nostalgic intention. I am constantly trying to figure out a way to allow my personal story to show in the work. I'm biracial so I feel like adding different types of fabric and sewing them together is me stitching myself together in a way.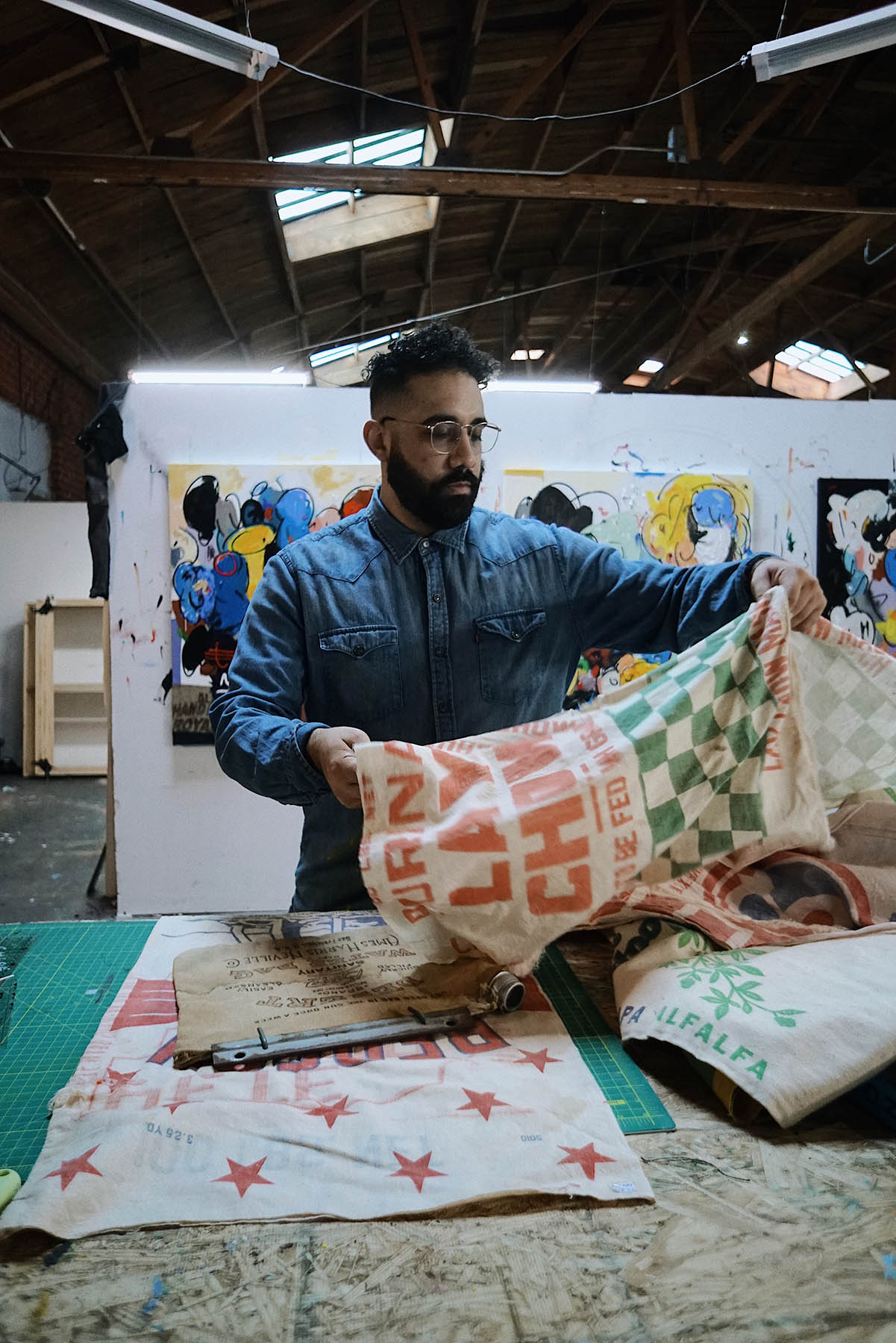 Did you start painting at a young age? What's your background? How did you begin your endeavors as a painter?

I actually didn't start painting until I was twenty-two or twenty-three. I took an art class in high school because I needed an AP credit. I begged the art teacher to let me in the class, and I totally bombed it. I was a terrible student. I dropped out of school when I was twenty-two. I started working full-time in a restaurant. I don't know if you've worked in a restaurant, but I was working double shifts a lot. I was at the restaurant all day, and I was living in a house with four other guys, so by the time I got home they were all asleep. I was bored so I started painting. It was a way for me to take my mind off work. It was more therapeutic at the time. It became a passion, and that passion became my career.

Do you remember your first painting or your first piece of art in high school?

It was this terrible picture of LeBron James. I'm a big basketball fan and a sports guy in general. But yeah, it was LeBron James and then I did this kind of clay etching of Kobe Bryant.

Do you see that narrative influencing your current work? Is there still a nostalgia retreat to imagery like that?

I haven't thought about those works until just now, but maybe. At one point, basketball was a huge part of my life. I have added elements of basketball into my old work. I had a show in Hong Kong with Over The Influence. I found these really old retro scraps of basketball players, like an 8-bit type of thing, and I sewed them into the work. I guess in that context, maybe some of those old works are still a part of what I'm doing today.



I Don't Even Have Pockets, 2018


I take it you don't have a BFA or MFA in painting. Is that what you're saying?

I have a BA in interdisciplinary studies from Arizona State University. I went to film school and I hated it. I dropped out and I started painting. Once I realized art was going to be part of my life, potentially and hopefully for the rest of my life, I went back to school to be an art teacher. But after talking with my counselor, who said I needed to be in school for another two years, I decided to focus on this program called Interdisciplinary Studies. Technically, my degree is in interdisciplinary studies with a concentration in film and education.

It seems like the politics of art right now, especially around galleries, patrons, and collectors, is that the MFA is this kind of rite of passage. But it seems there are more and more artists who are taking alternative paths. Have you seen any issues with not having an MFA?
Yes, I didn't realize how big of a deal it was until I moved back to LA. I did a small group show with this guy that builds stretcher bars. His name is John. A great dude. He put me in a show with Andrea Marie Breiling and Robert Moreland. There was a photographer at the show, and he approached me and said he wanted to introduce me to a gallery. He asked where I went to art school. I said I went to Arizona State and then stupidly said that I didn't go to art school. He said the gallery only takes pedigree, and he literally put his nose in the air and walked away. It was at that moment that I decided to figure things out on my own. I was already making money as an artist. Thanks to social media, I've been able to work with good galleries.
Was that your first time exhibiting work?

In Arizona, I showed my work in coffee shops, and then in a small gallery in Phoenix. I had a small gallery opening in Portland. It was my first show. My girlfriend at the time, my now wife, drove up to Portland with my paintings in the back of her car. Then I had my first show in LA in 2014. I had the show in this tiny gallery in Culver City called Prohibition.
Cheatwood painting in his studio.
Around that time is when artists started using social media, like Instagram, to share their work. Is it fair to say that social media transformed your career but also the art discipline in general?
I think so. I got on Instagram back then, but I wasn't really showing my work, I was just taking pictures. My honeymoon pictures are on there, you know, all that stuff. Instagram has worked really well for me in the last three or so years. But for me, in 2012 or 2013, it was Tumblr that I would upload to and share my work. There was a juried fair online and my work got reblogged a bunch, and that led to other opportunities. Social media is a really big part of the art world right now.
Do you think you could be a successful artist without using social media? Is it even possible now in 2021, to become relevant without having people look at your work online?
Yes. I feel like it can be one of those word-of-mouth type of things. I feel like people with institutional backing behind them will always have that strong career. I feel like for most millennials though, it's social media.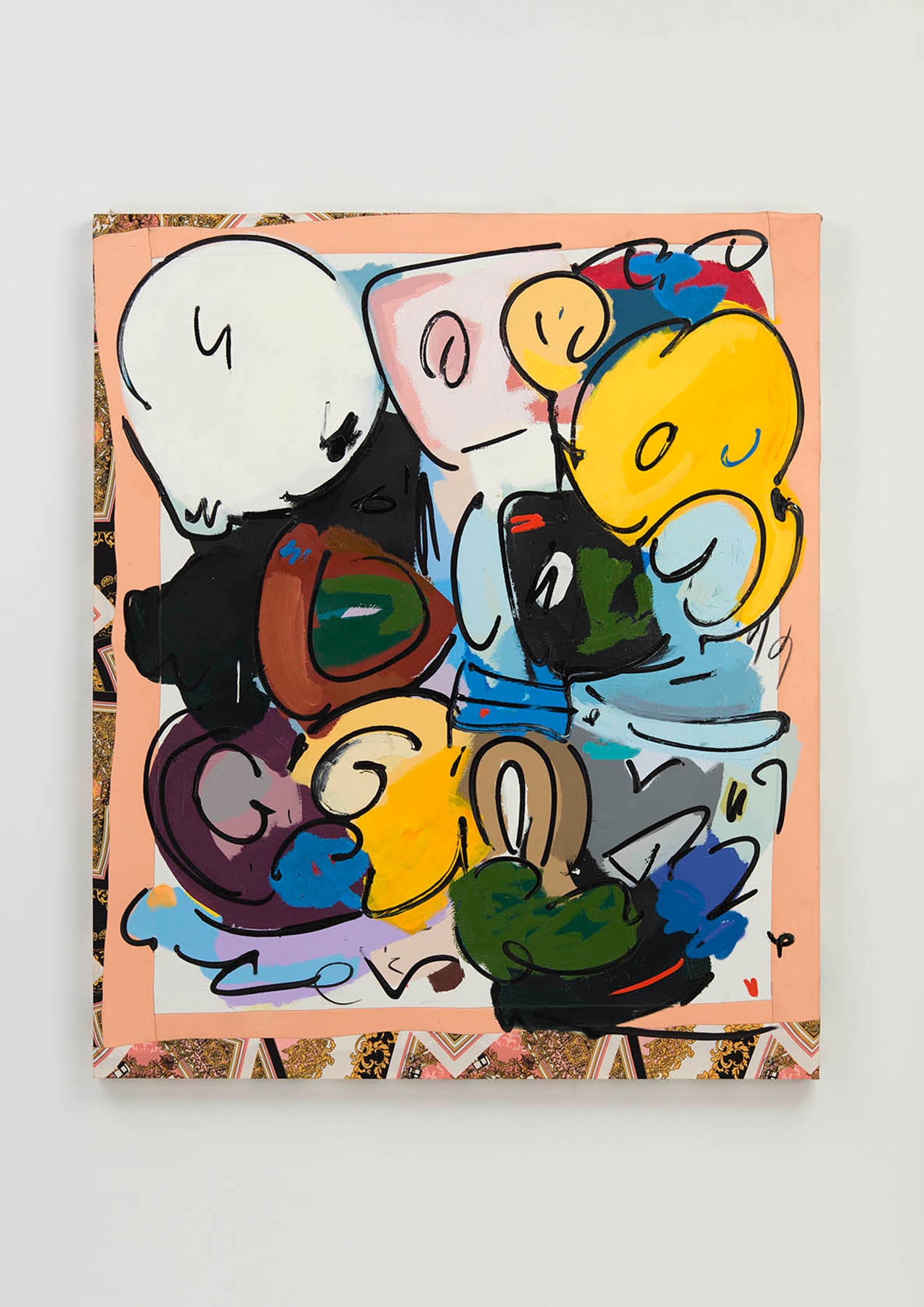 Jackie Chan, Eat Your Heart Out, 2020 (left) and Bird Fight!, 2020 (right)
I think the effects of social media on people's own work is interesting. There starts to be a kind of cross-pollination. I think of stealing, finding inspiration, using someone else's work as a tool to start new work. I'm sure you've had people do similar themes or similar looks to the paintings you're doing. Is that frustrating?
It's not frustrating, I think it's kind of cool. I have had people "Photoshop" actual paint off of my paintings and put it on their images. That's not cool. But if I inspired something, I think that's awesome. There are artists that I look at. Everything is borrowed in a sense, but as long as it's not a direct rip-off, then I'm cool with it.
When I see your work, it's very colorful. Is color a subconscious decision, or is it specific to something that you were looking at when you first started painting?
I think color is something that I've always found interesting. For me, it's more the feeling behind color. I think my favorite paintings are just really colorful. They make me happy. I would rather look at happy stuff, and that's also what I'm trying to put out in the world.
Cheatwood painting in his studio.
I saw online you were painting at a luxury hotel in Mexico. Is that a typical commission for artists these days, or was that a residency?
It was a residency. The work stayed at the hotel. They asked if I wanted to come and paint. I said yes, I'll come to Mexico and paint for a month. I made a total of five works.
It seemed like the colors of those paintings might have related to the context in which they were painted. I don't know if you think about your work like that.
I think my work changes in different environments. The hotel room opened up to the jungle. It was so green and lush, and it was always raining. I think that definitely helped me with the work. I also wanted to keep it in the same general color palette that I always use in my work, but also using the paint that I could find in Mexico. I didn't have access to everything I would use here, but in general, I wanted to keep it in the same context of what I'm already making.
Wedge Gallery

©2021 Woodbury School of Architecture
Website design and show identity by

Robyn Baker
©2021 Woodbury School of Architecture
Website and show identity by

Robyn Baker